_______________________________________________________________________
PAST WORKSHOPS
_______________________________________________________________________
If you are interested in any of the workshops below, shoot us an email. Once we have enough interest, we'll get it scheduled!


CONTACT STAFF SERIES
Instructor: Siri
Level: All Levels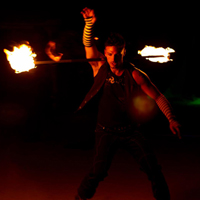 Contact Staff I--Foundation This is where we learn the fundamentals of contact staff. Beginning with wraps at the wrist, elbow and up the arm, we will learn Contact Propeller and begin to introduce Rolls. The main "move" you will learn is Conveyer Belt which links smaller technical moves into a larger sequence known as Conveyor. For the rest of the class we will explore wraps around the neck setting us up for Contact II, "the Steve."

Contact II-- "the Steve" After reviewing what we learned in Contact I we will continue to expand on the material. Because the Steve is an Iconic move we will spend the majority of class breaking down the pieces of the "Steve" and then putting them back together. We will introduce footwork and learn the different stall points on the body. The ability to change directions and flow between both hands/arms will be stressed.

Contact III -- Getting Vertical Starting with a review of the previous two classes we will then transition into vertical moves. Halo, Shoulder/Neck/Shoulder, and Angel Roll will be more than enough to keep us busy for the third part of this series.
Cost: $35 for 1, $60 for 2, $75 for 3, $120 for 3 Contact & 3 Dragon Staff Wksps.
_________________________________

DRAGON STAFF BASICS
Instructor: Siri
Level: All Levels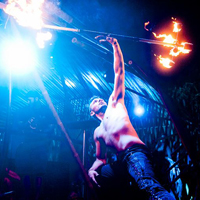 Dragon Staff I- In the first class of this 3 part series we will dive into the fundamentals of Dragon staff, learning basic static and chi rolls and the variations. I will throw in some easy crowd placing moves to help top it off.

Dragon Staff II- Building off of the previous class we will explore minimal Steves in both directions and work on chest rolls. I will teach you how to set up moves coming straight from the chi rolls.

Dragon staff III- I will introduce the minimal back side roll(half of the minimal matrix). We will explore Chi rolls in the opposite direction. Let's play with some leg work and keep expanding on the knowledge from the previous two classes.


Price: $35 for 1, $60 for 2, $75 for 3, $120 for 3 Dragon & 3 Contact Staff Wksps

_________________________________

SUSTAINED SPINNING IN THE HOOP
Instructor: Aya
Level: All Levels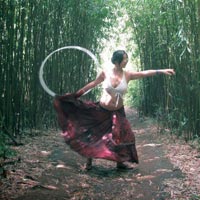 Get lost spiraling in and out of your hoop with sustained spinning. Learn how to spin for extended periods of time and gracefully blend spinning in with the rest of your flow.


Cost: $35

_________________________________

ENTER THE ROPE DART
Instructor: Parker
Level: Beginner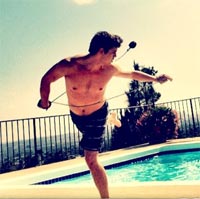 Learn the foundations of Rope Dart, so you can shoot fireballs over the heads of bewitched friends and loved ones. We'll start with the basic mechanics, movements, grips, turns, and planes. Then, we'll cover a wide range of wraps, and shots. You'll leave with a great sense of what's possible with a rope dart, and how to continue honing your skills.


Cost: $35

_________________________________

DOUBLE STAFF ISOLATION
Instructor: Glen
Level: All Levels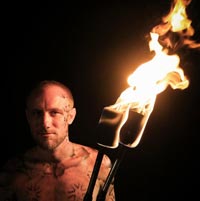 This All level double staff workshop will explore Isolations and transitioning in and out of isolations and other related movements. We will start by reviewing how to do isolations, and keep building until you have a good feel for flowing in and out of isolations.


Cost: $35

_________________________________


FREEDOM IN FLOW II: TRANSITIONS, COMBOS & POWER MOVES
Instructor: Jill
Level: Intermediate


This follow up to the first freedom in flow class will focus more on transitioning between moves- sparking your movement creativity while still considering the foundation we covered in the last workshop. Students should come prepared to learn a few combos & add thier own personal flair to the transitions & details. Get ready to move gracefully, rock out powerfully, & continue on your flowquest with style!


Cost: $35

_________________________________

INTRO TO AIRBRUSH
Instructor: Siri
Level: Beginner
RSVP: Email Siri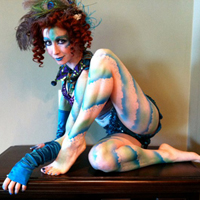 Your are invited to attend this workshop where we will explore the basic concepts of airbrushing specifically for body painting. This is a fun and easy hands on workshop that will give you the foundation to build your airbrush and artistic endeavors upon. We will begin with a comprehensive look at the tools you'll need in order to start airbrushing as a hobbyist or a professional. We will go through equipment, paint, accessories and all other things you'll need to get started. The class size is limited to 8. All you will need to bring is a notebook and pen, water bottle and maybe a snack. This is going to be an exciting and inspiring day of creativity.

Cost: $100
* minimum $20 deposit is required to hold your spot and can be paid through a paypal request

_________________________________

INTRO TO BURLESQUE MOVEMENT
Instructor: Alikat Rose
Level: All levels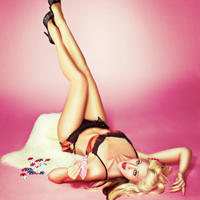 Learn LA's hottest new dance trend - The fabulous art of burlesque! Each 90-min. workshop will consist of a little education on the definition and history of burlesque, different styles of burlesque, and how burlesque has transformed into what we teach today! Then we will take it to the dance floor; where you will get a little tease in all the different areas of burlesque: striptease, chair tricks, sexy floor work a whole lot of attitude!


Cost: $35

_______________________________________________________________

Hoop Making Workshop
Instructor: Kamala & Jill

In this DIY workshop you'll learn to make two hoops of your choosing. One Sassy or Energy style grip hoop and one Juicy or Zinger Speed style hoop. You'll learn about where to get all of the materials and equipment and how to tape hoops quickly and skillfully. You tell us which size naked hoop you want and we'll bring them ready to be taped with any of Fire Groove's beautiful tape colors. All materials are included in the workshop fee. Have fun making two custom hoops for yourself!

Please email Jill with the two naked hoops you'd like. For each hoop, choose a:
Pipe Style: 160 psi, 100 psi, or HDPE
Hoop Size: 34" - 40"
* Not sure which style/size to choose? Read our FAQ page here

Price: $50


_______________________________________________________________________

Double Staff Series
Instructor: Glen
4 Part Series

Now is the time to take what you've learned in poi or staff and use it in double staff! There is so much technique and philosophy that crosses over. Even if you haven't learned poi or staff you are welcome, although it will be a little more work. This is a series of classes designed to give you a solid foundation of double staff technique. In the first two classes we will spend most of the time learning the most common timing and direction patterns, getting 1,2,3, and 4 beat weaves, and turning. This will give you a solid foundation to start from. Then after you have established your weaves we will shift our focus to adding new techniques to those weaves in the last two classes. I'll introduce anti-spins, isolations, finger twirling, stalls, and maybe more depending on how we feel at that point. When we finish you will be able to travel through the four most common timing/direction patterns, anti-spins, isolations, and some other fun moves we will play with along the way. My goal is to give you the ability to find your flow with double staves by the end of the class. I also want to give you a foundation for the more advance movements, so when you decide to learn those moves it comes as naturally as possible.

_______________________________________________________________________

Finding Your Freedom in Flow: Hoop Wksp
Instructor: Jill

Got all the moves but still figuring out how to fluidly bring them together? Flow is defined by dictionary.com as "to move along in a stream." No matter your level of hooping, flow is something we can all tap into, & it looks different for every hooper. This workshop will cover several elements which will aide you in your flowquest, giving you the confidence to flow freely no matter where you may be in your hoop path. These key elements including foot work, transitions, combinations, musicality, power moves, & letting go. Come get down with yo' bad self & let loose your individual style of free flow!

Price: $35
_______________________________________________________________

Fire Fans I & II w/ Grimm & Kamala
Fans Vol. 1
Apil 20th, 3:30 - 5:00pm
Tech moves are great, but tend to get you stuck with your feet planted. This class will pick up where Kamala left off, with moves that feel flowey and guide you across a stage. If you took previous Fire Groove classes, you're going to love this one. It will focus on what I call "traveling" moves. These movements do not work standing still, and encourage you to use the space you're given in a performance whilst looking like a badass doing it!


Fans Vol. 2
April 27th, 3:30 - 5:00pm
Techy Tech is great, but well, tech is GREAT! This class is going to delve into the snappy, sudden and downright mind-bending. Sound hard? Have no fear! We will show you how some VERY simple concepts come together to make advanced looking combos and some transitions to the flowey moves of Vol 1. We will also cover some spinning technique and "cheats" for getting you in and out of the 6 planes to free up your movement. It's about to get nasty!

Optional Classes
Fire Safety - April 27th 2:00 - 3:30pm
Light Up Ceremony - April 28th 7:00 - 8:30pm
_______________________________________________________________

Advanced Hoop Workshop Series
Instructors: Bouncy, Megan & Lizbits

Fire Groove is working closely with a handful of SoCal's hottest hoopers to deliver a brand new three class workshop series that is guaranteed to take your skills to the next level! These workshops do not build upon the prior class so they can be taken independently or all together.

4/14 - Bouncy - Focus on Chest, Angels & Leg Hooping
4/21 - Megan - Paddling, Breaks & Sustained Spinning w/ focus on breaking out of patterns and into breakthroughs!
4/28 - Lizbits - Focus and Foot Hooping and Ground Hoop Adventures

_______________________________________________________________


Fire Fans Improv Choreo
TBA: Email Us for Details
Instructor: Britt

Join us for this unique workshop where you will learn the basic concepts, formations, musical timing, cues, steps and postures necessary to create beautiful group improv choreography with fire fans.


_______________________________________________________________

Advanced Poi Technique & Flow
TBA: Email Us for Details
Instructor: Jade

This class is designed to take your performance poi spinning to the next level! We will combine concepts such as advanced pendulum, stalls, and anti spin/isolation movements with your standard weave and crank spinning. This is a great workshop for anyone wanting to take the technical aspect of their spinning and combine it with performance flow. We will also cover the importance of footwork as it applies to your performance.



_______________________________________________________________

Double Staff Flow
TBA: Email Us for Details
Instructor: Lester

In this class we will be focusing on moves that make you move... arm extensions, body rotations, body twists, foot work and much more! There will not be a lot of focus on new moves but rather adding in a few that help with your movement. A basic understanding of double staff foundation is recommended so you can get the most out of this class.


_______________________________________________________________

Performance Secrets for Fire Dancers
TBA: Email Us for Details
Instructors: Hannah, Kamala & Lester

Are you ready to start performing? In this special workshop Fire Groove founders Hannah, Kamala and Lester will share 10 years of performance secrets with you including: industry rates, asking for money, dealing with clients, promotion, power performance moves, quick partner choreography, fire safety, fire permits and fire marshals, glow shows, costumes, music and lighting. Whether it's a backyard barbecue or at the Staples Center this workshop will give you the confidence to become a professional fire performer! Includes lecture and learning power moves with poi, staff and hoop.

Cost: $40
_______________________________________________________________
Adv Poi --- Fun with Fireball (AKA buzzsaw)
TBA: Email Us for Details
Instructor: Siri

In this advanced poi flow and tech workshop we introduce Fireball. An essential move for poi spinners, we will learn how to get in and out of the buzzsaw plane smoothing out your transitions and offering a variety of combos. We will introduce turning and foot work with fireball to get you moving and explore the plethora of variations in this move. Prerequisites: having completed all or most of Fire Groove's Poi Groove Basics course, or a self taught spinner with working knowledge of basic poi. Moves and combinations we will be flowing in and out of are: weaves, crank, sun, pendulums, flowers and extensions.

_______________________________________________________________

Double Staff Technique & Flow
TBA: Email Us for Details
Instructor: Glen

Opposite direction split time is one of the four main timing patterns in double staff. This workshop will explore how to get in and out of this timing, variations in beats of the weaves, intermediate and advanced moves, and how to flow between them. The end result of this workshop will be to give you a solid technical foundation to allow you to develop your own stylish flow in opposite direction split time. Prerequisites: some double staff experience or comfortable with poi and single staff or intermediate staff spinner.

_______________________________________________________________

Flow Arts Movement
TBA: Email Us for Details
Instructor: Lester

This is a brand new workshop in which all types of tool spinners can come to work on movement and flow. There will be a lot of focus on foot work and connecting your movement to the beat of the music. This will be a great class for those of you performing and considering performing, or if you would just like to break through that shell a little more and become comfortable with the dance aspect of fire dancing. We will also show you some practice moves for each tool to really sync in with the beat. This is going to be an extremely fun class so prepared to get your smile on!


_______________________________________________________________

Contact Staff Basics
TBA: Email Us for Details
Instructor: Siri

We will begin with the basic concepts of contact staff teaching wraps at the hands, arms, elbow and neck. As we progress we will discuss planes, contact spinning and foot work. We will discuss the difference between rolls and wraps and show you how to start applying both. Working on controlling the staff we will look at stall points allowing you to switch directions and move freely with your staff. We will continue with fish tails with both hands in both directions. Moves include: wraps, rolls, spirals, conveyor, fishtails, steve, halo, and angel roll. Prerequisite: a basic understanding of staff spinning with a working knowledge of forward and backward weave (both hands) and turning (both directions)