Performer Intensive Instrucor Bios

Chris Filkins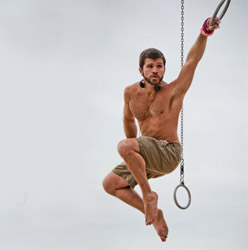 Chris Filkins is a Los Angeles innovator in a number of different disciplines within circus. His emphasis is on momentum and the ways it can be harnessed in the human body through acrobatics and within human powered machines such as wheels. He has both taught and performed for movies, television, and special events through the western United States including notables such as with Tenacious D, Beverly Hills 90210, American Gladiators, the ReCircle Collective, the Super Geek League, the Do Lab, & the Vau de Vire Society, among many others. He teaches privates, classes, and workshops in the roue Cyr, traveling rings, zig rolling, & acrobatics.



Maggie Lally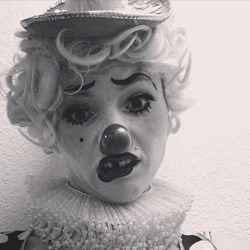 Maggie Lally is a performer born and raised in Venice Beach, California. She first raided the stage during her sister's piano recital at the age of two and hasn't gotten off. She's worked with bands, circus companies, festivals, vaudeville shows and has been performing full time since 2008. Special highlights of her career include worldwide touring with singer Emilie Autumn, humanitarian clowning with Patch Adams and Gesundheit Institute in Peru, and performing the festival circuit with The Lucent Dossier Experience. Her specialties include stilt walking, singing and roving clowning. She's infamously known for her odd and distinct characters such as Captain Maggot, Tinkbot, and Floozy MaGee. She travels most of the year, performing all over the world and in her time at home she loves to cook and spend time with her two pet rats, Honey Pie and Nina.


Stephanie Jamieson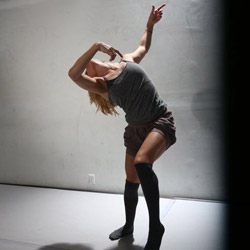 Stephanie Jamieson, better known as Steph J., has been a mover and a shaker since before she can remember. Destin for a life filled with movement, she choreographed her first solo piece at the age of three, a classic of her family home videos. Since that video she graduated cum laude from Loyola Marymount University and has performed throughout Los Angeles, in Canada and Costa Rica. Steph J. has taught dance and choreography at Renaissance Arts Academy, Idyllwild Arts High School and currently at American Musical and Dramatic Arts College and Conservatory. She is passionate about making dance that evokes a cathartic experience for the audience and pulls the viewer on a journey. Her work explores the depths of human emotion that manifests in raw natural movement. She is also a Certified Gyrotonic Instructor® and is currently working with Wilderbe, Bubble Gutter and LA Sirenes. You can also find her choreography in music video's for such artists as Puddle of Mud, Boniz Heart and Rough duchess.


Stephanie Federoff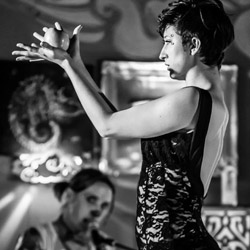 Los Angeles native Stephanie Lynn has been dancing and performing since her very first "Baby Ballet" class the age of 3. She discovered her calling to choreography and teaching when she was 9. Ever since then she has been developing her artistic voice as a Dancer, Choreographer and Performance Artist at festival and various shows around LA. Most at home when she is pushing the boundaries, many of her pieces explore stories and subject matter that air on the mature side, both in concept and execution. Her highest goal as a performer is to make those watching or experiencing it feel something. She believes that dance is one of the strongest tools for storytelling and this is a skill she will be focusing on in her class. She has choreographed for the LA sirens, New fangled opry and is the founding member of the Bijoulettes.


Jesselynn Desmond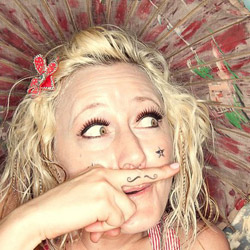 Jesselynn desmond Grew up in South Lake Tahoe, NV and moved to Los Angeles in 1995 to follow her dreams of living the performer life. Always knowing she had an unparalleled zest for life and the desire to explore far beyond the confines of normalcy she tirelessly dedicated herself to the study of many art forms including dance, movement, character study and stage presence. Fueled with boundless energy from sources mysterious and unknown she has been character acting professionally for over ten years with such troupes as The Lucent Dossier Experience, FireGroove and Zen Arts (to name a few) and Founded The New Fangled Opry.
Jesselynn has been teaching for over 20 years with a passion for coaching others to love themselves, seek truth and explore their highest selves. She has a mindful, nurturing, and a relaxed presence that allows her to train a variety of personalities. Her classes are known to allow students to delve into the deeper understanding of character and life.


Kamala Mathis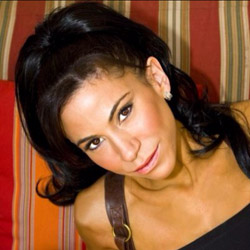 Kamala's loving heart, intuitive spirit, and healing abilities have drawn people to her since she was a child. Fire dancing came naturally to Kamala with her solid background in dance and yoga. Her rhythmic dance style has been described as beautiful, sultry, and exotic, manipulating every fire tool with skill, precision and grace. It's been said that we are spiritual beings having a human experience. Kamala will remind you of your spirit and guide you with patience, understanding, intuitive touch, and mellifluous words. The strength and passion that she exudes for her arts is absolutely contagious. Kamala started Fire Groove after Indra Yoga and Dance in 2005 with her siblings Lester and Hannah. With her background in marketing and public relations she skyrocketed Fire Groove into a mainstream performance troop that would rock LA and travel the world! She has collaborated on projects with HBO, Tesla, Microsoft, Google,The Black Eye Peas, Disney, Jane Fonda and Marissa Tomei and countless others. Kamala has taken her passion and made it her life, she encourages everyone to live their dreams!.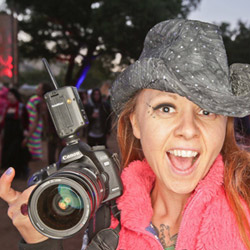 Helen Olds
Helen Olds is a fashion and beauty photographer based out of Los Angeles, California. She has been published internationally and been in the fashion business as a designer and photographer for over 20 years. She spends her personal time making custom clothing, going to festivals and performing as a dancer, burlesque, clown, fire dancer and all around entertainer. Her work can be seen at http://www.helenolds.com



Anthony Greenz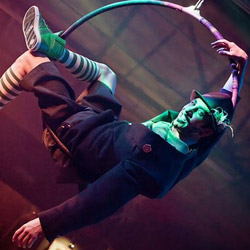 Anthony Greenz was born a mile high in the fantastic city of Denver, Colorado where he trained tirelessly in the art of class clowning and tomfoolery. He quickly became aware that body manipulation and dance were at the forefront of his talents. In high school Greenz began street dancing and battled at b-boy events all over the country. Deciding to choose dance as a career he moved to California where he attended Chapman University and received a BFA in dance performance. Although freestyling and hip hop dance are his foundation, Greenz is proficient in many dance styles, including ballet, jazz, and modern. Since graduation Greenz has worked in the commercial dance industry in LA, he has worked with several dance companies, and been a primary dancer and choreographer for the Lucent Dossier Experience for the last four years. With Lucent and other companies Anthony Greenz has traveled all over the world performing at major music/art festivals. Now Greenz is working on fire dancing and aerial arts to expand his skill set. Although Anthony is very serious about developing mastery in various performing arts he is still more dedicated to being a full fledged buffoon and a clown of incredibly silly antics. The three major projects where you can see Anthony Greenz in action are, Wilderbe: a dance troupe utilizing video mapping, L'Unkels Boink: an adult clown troupe, and Lucent Dossier: a neo circus performance art group.